A charming gite ranked 4 epis (premium) for 8 to 12 persons
An old mansion from the 17th century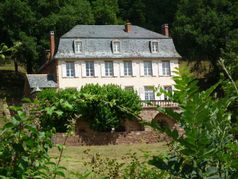 In the heart of the Aveyron, nearby Conques, in the Valley of Marcillac, you will discover this comfortable gite for 8 to 12 persons built in an old mansion.
Built on the south side of a wooded hill of hundred-year-old oaks, this house from the 17th century opens its doors for you all along the year.
At the bottom of the Causses, the Valley of Marcillac represents the sweet life with its nice climate in any season, its red sandstone houses, its grasslands and its vineyards built in terraces.
Although the house is placed in the countryside in a natural and relaxing environment, you will only be at 10 minutes from any shops and services. Our region also offers multiples activities and hobbies.
Virtual visit
All the comfort of a 4 epis gite in a house that has kept all its charm and its character.
Apporvals:
- "4 epis gite" by Gîtes de France, accreditation number GB26
- "Gîte de Caractère – Art de Vivre" by the Regional Council of Midi-Pyrénées
- "3rd

prize 2009 Departmental Heritage" by the General Council of Aveyron